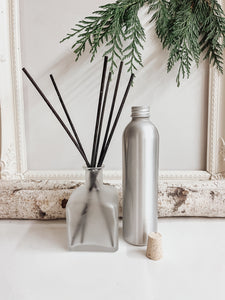 Transform your space with our exquisite reed diffuser. Immerse yourself in a symphony of captivating scents as the elegant reeds disperse a continuous, subtle fragrance. Elevate your surroundings effortlessly – it's not just a diffuser, it's an experience.
Scents include:
Christmas Spice - a blend of warm and aromatic spices . Cinnamon, nutmeg, cloves, and hints of ginger. It's a festive fragrance that adds a cozy and nostalgic touch to the atmosphere.
Sugar Plum - a delightful combination of sweet and fruity notes, reminiscent of sugared plums. Picture a blend of sugary sweetness with a hint of plum's juicy essence, creating a whimsical and enchanting fragrance. Perfect for adding a touch of magic to your surroundings.
Evergreen - reminiscent of coniferous trees like pine, fir, or spruce. Imagine the crisp, refreshing aroma of a dense, lush forest captured in a scent – that's the essence of Evergreen.
Included: Frosted Glass Jar, Reeds, 240ml refill bottle, (enough for 2 fills), funnel
*Diffuser scent can also be used for car air fresheners.