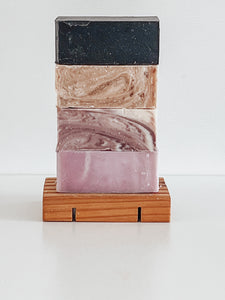 Choose from 5 scents:
Activated Charcoal is unscented and known for its detoxifying qualities.  It also has a strong deodorizing effect. Charcoal can be helpful for acne.
Lavender Bergamont is made with natural and moisturizing saponified vegetable oils, along with the soothing scents of Lavender Essential oil and Bergamont Essential oil.
Honey & Oatmeal provides nourishment and moisture to dry chapped skin as it is made with all natural ingredients.  Contains shea butter and exfoliating oats.
Desert Bloom provides the skin benefits of its natural ingredients in a colourful swirled bar that is reminiscent of the beauty of a desert in bloom.  It contains a skin nourishing Essential Oil blend of Sweet Orange Neroli, Patchouli, and Ylang Ylang.
Gardener's Scrub is a gritty soap that will take all the soil off your hands without stripping moisture away.
Soap dishes are also available through Koko & Shae.
142 g / 5 oz.